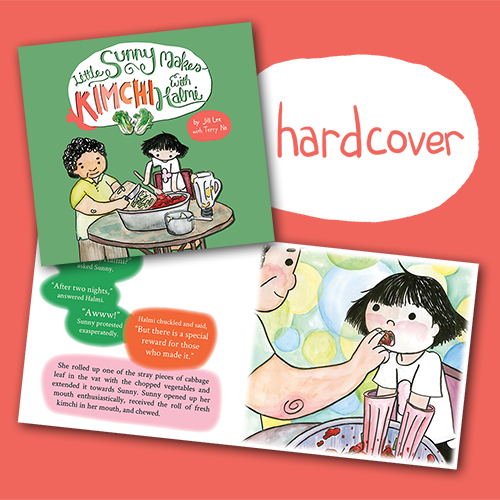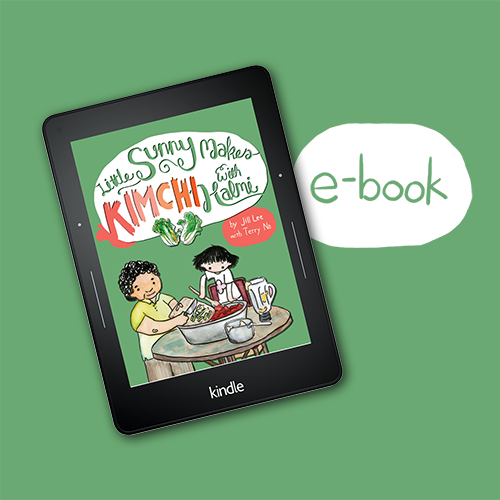 Also available at Kitchen Arts & Letters, Onggi, Blue Hill Books, Sherman's Maine Coast Book Shops, Owl & Turtle Bookshop Café, Rooster Brother, and the Wing Luke Museum.
---
What is it like growing up making kimchi at home? Little Sunny Makes Kimchi with Halmi takes readers through the experience as Sunny learns to make kimchi from her grandmother visiting from Korea.
Little Sunny is a Korean-American girl living in an American town with her mom and her baby brother Tak. When Sunny's and Tak's grandmother Halmi comes for a visit, she brings with her a treasure trove of ingredients from her hometown in Korea and leads Sunny and Tak into the unique world of kimchi-making. Join Sunny in her foray into the world of kimchi, and you might just begin a kimchi-making tradition of your own.
Includes kimchi recipe!
---
About the authors
Jill Lee is a writer and illustrator whose childhood was spent in South Korea and the United States. She grew up watching Terry make kimchi in Ilsan, Oklahoma City, and Los Angeles. After leaving high school in L.A., Jill followed her love of nature and winter to Bar Harbor where she now spends her time cooking, writing, gaming, and botanizing.
Terry Na is a chef who began fermenting cabbages and soybeans with her mother at the age of eight in her hometown Busan. After raising her two children Jill and Max, she launched her culinary career, introducing classical Korean cuisine to restaurants of New York City, Cape Cod, and Downeast Maine. She now splits her time between Maine and Korea, continuously perfecting her kimchi recipe.
---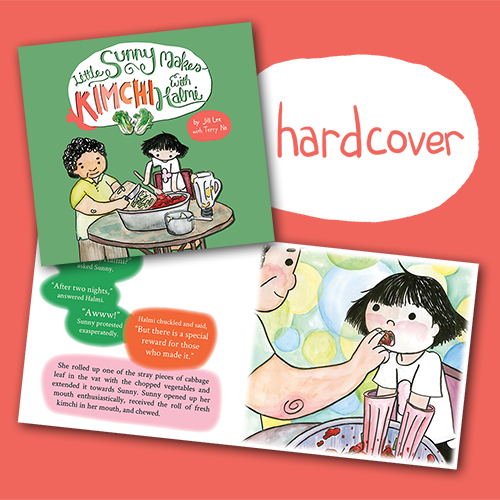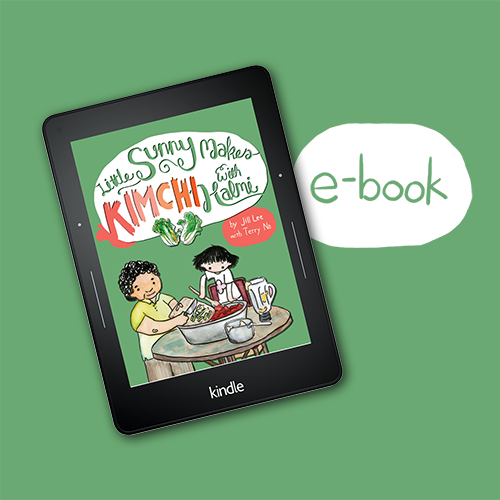 ---
Stockists
Maine
Blue Hill Books
26 Pleasant Street
Blue Hill, Maine 04614
207 374 5632
bluehillbooks.com
Onggi
93 Washington Avenue
Unit 5
Portland, Maine 04101
207 352 3528
onggi.com
Owl & Turtle Bookshop Café
33 Bay View Street
Camden, Maine 04843
207 230 7335
owlandturtle.com
Rooster Brother
29 Main Street
Ellsworth, Maine 04605
207 667 8675
roosterbrother.com
Sherman's Maine Coast Book Shops
Bar Harbor
Boothbay Harbor
Camden
Damariscotta
Freeport
Portland
shermans.com
New York
Kitchen Arts & Letters
1435 Lexington Ave
New York, New York 10128
212 876 5550
kitchenartsandletters.com
Seattle
Wing Luke Museum Marketplace
719 South King Street
Seattle, Washington 98104
206 623 5124
wingluke.org
---
Sign up for our newsletter below to receive updates about new stockists, Little Sunny events, and more.